Internet Marketing Services for Central Washington Businesses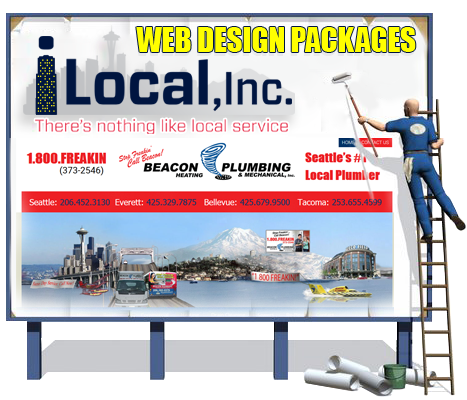 Internet marketing is the latest trend which is fast gaining popularity. This is one of the most popular ways of promoting the products and services of a company over the internet. By advertising their products online, Central-Washington businesses can gain huge profits.
At iLocal, Inc. we focus on designing an extensive promotional campaign that would help your business to make a notable impression on the targeted customers. On offer are customized marketing services which would help in increasing the site traffic.
Along with advertising services, our professionals offer a vast array of other services as well, from website designing to search engine optimization. Therefore for cost effective and reliable internet marketing services, contact the professionals at iLocal, Inc.
Latest Online Marketing Techniques for Your Central Washington Business
It does not matter whether you own a small scale business or you have a huge business empire. What matters the most is marketing it in the right way. Entrepreneurs are often faced with the challenge of choosing the right approach to advertise their business. Central-Washington business owners need not to worry as iLocal, Inc., is a leading online marketing company, offering the services of experienced and skilled professionals to help you.
We plan effective strategies to promote your company, such as:
Designing a functional website
Planning optimization strategies
Listing the company in popular directories
Promoting the company on social media networks
Fluid model for a responsive website
A good marketing plan can help the company to earn more profit. Therefore, always hire a reputed company to promote your business online.
Full Service Marketing Company Servicing Central Washington
iLocal, Inc. is an online marketing company, which offers effective solutions to increase the visibility of your website, in order to increase the inflow of traffic. We believe in increasing the sales of your Central-Washington business and thus help you to enhance your profits.
Now days, internet marketing has become a primary need of every business and is an easy way of reaping profits. So if you want to advertise your company on the social networking sites or rank it higher on search engines, contact only the expert marketing professionals in the industry. While planning to opt for internet marketing for your Central-Washington business, remember to focus on the targeted customers and then plan out a strategy.
If you want to promote your Central-Washington business with us and avail various benefits of internet marketing, call iLocal, Inc. at 206-790-1999.