Inventive Web Design For Businesses In Ellensburg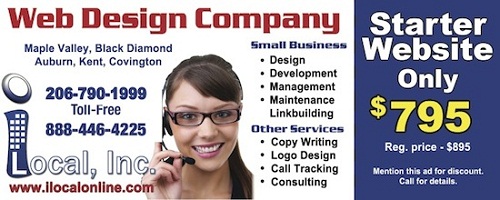 Every business today has a website. But the important question is how good the web design is? Is it user friendly? The question is whether a user loves to come back to your website? The answers to these questions aren't going to be easy. iLocal, Inc. in Ellensburg have experiences over the years in not just website design but also making sure the above questions are answered on a positive note. We adapt to latest strategies in the market and customize them to suit your business needs. While working on your web design we take into many designing factors into consideration to give you the best outcome.
Distinctive Website Design for Ellensburg Businesses
We at iLocal, Inc. believe that the user interface defines everything about your website. Ultimately, it is the user design which decides how many customers would come back to your website. Our web designer with their experience over the years ensure you have the best UI. We ensure that we provide a search within your website. Also give special importance to design a best search. We take care not to use too many literals as it would reduce the usability. We also avoid CAPTCHA. Yes, those completely automated public test to tell computers; if we are humans or automated systems. Are you shocked? Well most of our customers were too. The basic reason why our web designer suggest not using CAPTCHA is because these are not at all user friendly. First, they make the user stare at his screen with completely attention. Second, it really frustrates your user if your CAPTCHA is a tough one and he is not able to decipher it. This might make your user to leave the website.
Skilled Web Designer Serving Ellensburg
Some customers are worried about how to avoid robots on their sites? We at iLocal, Inc. have many simpler solutions for these as well. One such example is use of a basic question such as what is 2+2? The user will any day find entering 4 easier than entering your big CAPTCHA code. This is just one of the examples, we have implemented for our various clients. We have many more for you. It is very common that your site visitor wants to pass some comments or suggestions or wants to contact you. There are many sites today that give an email id to contact. Do you think the user has patience and time to copy the email id and type mail from his mailbox?  Try to avoid just the email address, and always provide a text box and a button for the user. This would help in 2 ways: one your user finds it easy; two, you would get a free suggestion to improve your website design.
Find out more web design suggestions at iLocal, Inc. in Ellensburg; contact us now (206) 790-1999.