Logo Design Seattle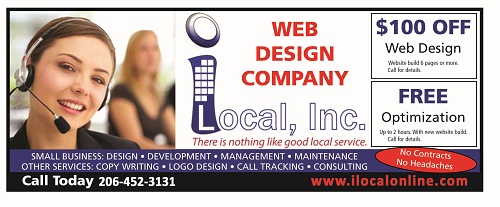 There are several logo design companies in Seattle, but you should make your choice carefully because some are better than others.
The Best Logo Design Company in Seattle
At iLocal, Inc., we pride ourselves as one of the best logo design companies in Seattle. We are the best because we will deliver your logo in between 24 and 48 hours. We have the latest logo design software for the job and we ensure that there are no plagiarism issues by only using original graphics and artwork.
We have an extensive portfolio which is proof of our credibility and reliability. You should come to us because we are a local company and you will be giving the local economy a boost by hiring us. We are licensed by the relevant government regulatory bodies.
You should come to iLocal, Inc. because we only design effective logos. Our logo designers understands that there are 5 crucial elements for an effective logo, these being contrast, recognizable symbols, unique graphics, clarity, and contrast, and these crucial elements are always at the back of their minds as they work. All iLocal, Inc. logo designers take practical and creative approach to logo design.
We do not cut corners because we understand that people associate your products or services with your logo and if you have a poor quality logo, your customers/clients will also think you have poor quality products or services. You get to choose from thousands of fonts, symbols, and colors and this ensures that you get exactly what you have visualized in your mind. Although there are many templates in the market, some free of charge, we only do custom logo design because we do not want your logo looking generic, like it was copied from someone else.
Experienced Seattle Logo Designers
All our logo designers have the relevant training and years of experience in logo design. We know that technology is always training and for this reason we ensure that our team always uses the latest technology and tools. Other than logos, the team at iLocal, Inc. also specializes in graphic design, 3D animation, web development, visual communications, and advertising. This means you can get all your services under one roof, which offers convenience and cost benefits.