Online Marketing in Seattle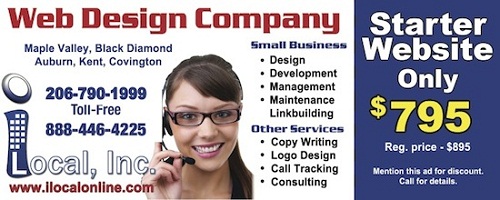 Do you need online marketing in Seattle?
If you are a small business owner, chances are you do. Luckily, you can easily hire an online marketing expert in Seattle, such as iLocal, Inc., to help you figure out your online marketing campaign. If you are unfamiliar with online marketing the best way to look at it is just an extension of your normal marketing. As a business owner, you have probably put aside money to create pamphlets, business cards, brochures, and signs. You may have even rented billboard space! You did all of these things with the goal of bringing more business to your doorstep. While these ideas are fantastic, chances are you are not getting the increased sales you need without an online presence: enter online marketing!
Online marketing is everything that you do to get more sales using the Internet. Instead of putting money aside for billboards and pamphlets, you are putting money aside for a new website, search engine optimization, quality content, and professional blogging services. Just as you would hire a graphic designer to put together brochures, you will also be hiring a professional design team to design your website. Click here to find out about Seattle's top online marketing experts.
Small Business Marketing in Seattle
Small business owners need online marketing more than ever. With the highly competitive nature of business in today's world, anything you can do to give you an edge is worth it. More and more consumers are turning to the Internet for all of the products and services they need. Imagine being a customer and sitting down to do some research regarding a product you need. Chances are, you will pick one of the businesses that has a quality website, good reviews, and professional content. Without a website and all the bells and whistles that go along with it, you just can't compete.
If you want to hire an online marketing expert in Seattle, but are worried about the cost or the time associated with it, don't be. iLocal, Inc. makes all of the effort worth it. In fact, it won't be very long after they have your website up and running that you start to notice an increase in sales. You may be spending a little bit of money up front, but the money that it will return to you is much more important.
For more information regarding iLocal, Inc. and their small business marketing in Seattle, visit www.ilocalonline.com. You can also speak with a team member by dialing 206.790.1999.