Call iLocal, Inc. for Puget Sound SEO!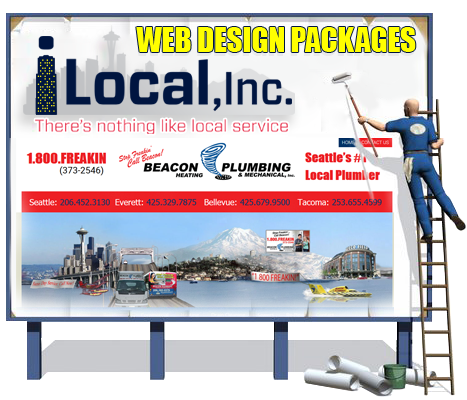 Have you started a website for your business?
If you have, chances are you've started with a pretty basic website that lists all the pertinent information that customers need when they want to reach you. Perhaps you have a little bit more, such as pictures, videos, and interesting graphics. However jazzed up your website is, it may not be getting the traffic that it deserves. Unless you have hired someone to optimize your website using Puget Sound SEO (search engine optimization), chances are your visitors are few and far in between. This is because there are thousands of websites started every day. The big search engines like Google and Yahoo need some standards for how to categorize websites into two categories: websites to rank on their search engines and websites that aren't worth listing. Puget Sound SEO services aim to take your website and turn it into a site that Google and Yahoo will pick up on and list high on their results pages, making you extremely visible to potential customers all over the world.
Puget Sound Business Marketing
iLocal, Inc. has been the go-to source for Puget Sound business marketing for years. In today's economy, customers are wanted to spend their money on expenses that they know will bring a return. All of iLocal, Inc.'s services are designed to do just that; bring a return that makes your investment worth it…and then some!
A few of the Puget Sound business marketing services that iLocal, Inc. offers include:
Blogging
Graphic design
Logo design
Social media advertising
Complete website design
And much more!
In addition to a wide variety of services aimed at increasing sales, iLocal, Inc. provides the highest level of customer service. You can expect personal service every time you call as well as a fast return on any messages you leave. The owner of iLocal, Inc., Jason Morgan, believes in keeping only the most professional and qualified staff on board. This way, you will always get the help you need when you need it.
If you are seeking great customer service and quality web design, content, and search engine optimization, then call iLocal, Inc. For more information regarding the best Puget Sound SEO, call 206.790.1999. You can also view their website by going to www.ilocal.net.
The iLocal, Inc. team looks forward to speaking with you!