Hire iLocal, Inc. for Puget Sound Web Design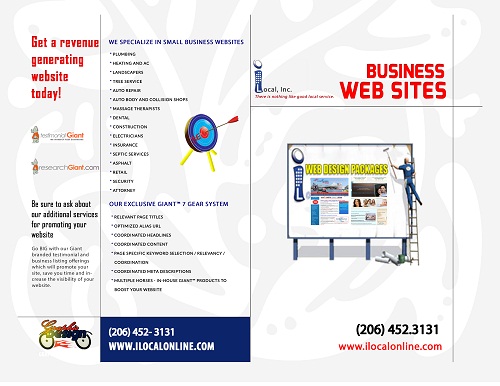 Do you have a website for your small business or company?
If you do, then you are sure to be experiencing the benefits of having a website. If you don't have a website, then it is time you call iLocal, Inc. to get the ball rolling! Having a website can be so beneficial for your business. In fact, in today's market it is almost a necessity! As more and more customers search for and shop from businesses online, having an online presence becomes increasingly important. Having a website built may seem like a daunting and expensive task, but it doesn't need to be. By choosing iLocal, Inc. to take on the project, you are gaining a whole team of highly educated and enthusiastic individuals who are able to take care of everything for you.
If you have been afraid to jump into the web design pool because you are afraid of being misrepresented, you will feel at ease around iLocal's team of web designers. When you hire iLocal, Inc. they will sit down with you to discuss exactly what you are looking for and exactly what you don't want in a website. The great thing about custom web design is that you, the business owner, get the final say in what gets published to the web. iLocal, Inc.'s staff will not stop until you are completely satisfied with your website and its performance.
Puget Sound Business Marketing
iLocal, Inc.'s Puget Sound web design is only one of their services aimed to increase your customer flow. In fact, iLocal, Inc. offers a wide variety of Puget Sound business marketing services that will not only help increase your customer flow, but will also increase your customer satisfaction. Customers in today's market-place love to feel as though they are connected to the businesses that they frequent. Blame social networking or online deal frenzies, but customer interaction is at an all time high and it can be very beneficial to take part. By hiring iLocal, Inc. to perform business marketing online, you are taking the extra step necessary to connect with your customers.
A few of the Puget Sound business marketing services that iLocal, Inc. offers include:
Blogging
Graphic design
Logo design
Social media advertising
Complete website design
And much more!
For more information regarding the best Puget Sound web design, call 206.790.1999. You can also view their website by going to www.ilocalonline.com.
The iLocal, Inc. team looks forward to speaking with you!