Seattle Web Design Professionals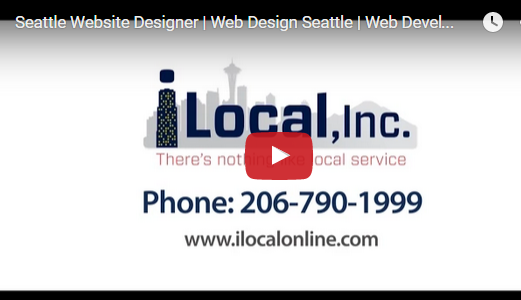 If you are seeking qualified Seattle web design professionals, contact iLocal, Inc.
iLocal, Inc. is a Seattle based web design firm that focuses on Seattle web design and other online marketing services. They offer their services in attempt to showcase a business's most favorable qualities. By doing this, iLocal, Inc. can increase the number of visitors to your website, which will in turn increase your sales. In today's world, every little bit of online marketing counts. Seattle web design professionals will take all of your information and turn it into an attractive website that will allow customers to reach you more effectively.
The benefits to having a website for your business include:
More customers, which in turn means more sales
Customers who aren't local can still find you
Loyal customers and new customers can interact with you
You are search-able on search engines like Google and Yahoo
You can display promotions and fun information, such as an "About Me" section
For more information regarding iLocal, Inc. and their web design services, click here.
Seattle Web Design Services
iLocal, Inc. is the company to call if you are seeking professional Seattle web design services. In fact, the owner of iLocal, Inc. is highly skilled in the area of web design and online marketing. Jason Morgan, the owner of iLocal, Inc., also maintains a team of educated and motivated online marketing experts. When you are in the market for website design, you should ask yourself the following questions:
Who is my target customer base?
What values do I want my website to reflect?
What colors and theme best represent the attitude of my business?
How much can I allocate to my online marketing fund?
All of these questions will help the iLocal, Inc. team come up with the perfect Seattle web design services for you. For some, a simple website with contact information is all that is requested. However, for those that are trying to take their business to the next level, a website with good layout, content, media, design, and blogging is needed.
After you have answered the questions listed above, think about your target audience. What kind of features will they appreciate? What colors and content will attract them? By answering these questions before you meet with iLocal, Inc., you are giving yourself the best chance for clear communication between you and your designer.
For more information regarding iLocal, Inc., call 206.790.1999. You can also view their website by going to www.ilocalonline.com.